Current version: 1.0
Production start date: November 2014
Latest update: September 3rd, 2015
Created by ZoraSlade Karu, this beautiful model is compiled of originally created mesh with LOD models, textures, and advanced lighting maps (Specular/Normals). The aircraft has been built to be flexible, easy to use and modify, even for the casual SL Aviator.
I have a personal attachment to the PA-38 Tomahawk as it was the first light aircraft I had ever flown in. My father trained in the Tomahawk with Arena Aviation flight school at Archerfield Airfield (ICAO: YBAF) in 1996. Dad would take me flying in the "little Tommy" when he had his Private Pilot's License and we'd explore the Brisbane and lower Ipswich area of Queensland. On one flight, Dad let me (at the age of 6) take the yoke and fly the plane while we were over Brisbane. It was a piece of my childhood that I'll never forget.
I want to share this experience with you in the World of Second Life!
Special Thanks to these people who helped make this aircraft:
Tank Kwaszes (Laminar Systems)
Karl Reisman (THI)
Sweecahcahche Ah
VetronUK Resident
Ryona Katsu
Beta Testers:
Cody Skytower
Carter A. Melnlkov (Slade Fiertze)
Colby (assassin4ever)
Julias Joestar (YumikoARKS)
Any any other BETA testers who participated.
Technical information
Crew: 2
Length: 7.04m
Wingspan: 10.36m
Max speeed: 126kts
Cruising speed: 100kts
Stall speed:
- Clean: 53kts
- Full flaps: 49kts
Rate of Climb: 718ft/min
(Characteristics and scale have been adjusted for use in Second Life. Aircraft is based on a 1:6 scale physics math and the model is 10% larger than the real life dimensions)
Package
You should of received in your PA-38 purchase package:
<ZSK> PA-38 Tomahawk ~ (No Transfer)
<ZSK> PA-38 Tomahawk Desk Model ~ (No Transfer)
<ZSK> PA-38 CPAT system ~ (Full Perm)
<ZSK> PA-38 Texture Applier script ~ (Full Perm)
<ZSK> PA-38 Tomahawk HUD ~ (No Modify)
> > Texture templates supplied here:
Tomahawk Templates
(Please note that I don't use Photoshop and that these templates have been converted from another file type. You may need to adjust them to your needs.)
DISCLAIMER
All mesh objects/constructs, textures/graphics and scripts are copyright of ZSK, and it's owner ZoraSlade Karu.
ZSK does not take responsibility for:
~ Anything displayed on this product which isn't official ZSK content.
~ Inventory or asset loss of any kind.
~ Any breach of TOS that the User or Owner is involved in with this product.
Features
High detailed Mesh model at only 58 Land impact (23 LI physics), and high quality textures with Normal/Specular mapping.
Smoothly animated control surfaces and functioning objects such as; Ailerons, Rudder, Elevator, Flaps, Propeller, Landing gear, and doors.
Fully functioning, touch activated, Cockpit and instrument panel with dials reading accurate scaled information on the aircraft's behavior; Artificial Horizon, Turn and Slip coordinator, indicated airspeed, Vertical speed indicator etc. and hide able Yokes.
Mode B and mode A flight physics; Mode B for easy cruising, Mode A for more realistic physics behavior such as stalls and spins. Heavy braking causes the nose gear to shrink under load.
Wx Weather system which allows crosswind landings and random encounters with turbulent winds. Comes with 6 preset weather conditions to fly in. SL wind is supported.
6 Camera positions to choose from.
Smoothly transitioning Engine sounds.
Pilot and Co-Pilot controls and animations. Seat adjustment system is also available.
Landing lights, Cockpit lights, and external lights with projected lighting sources.
Multiple External liveries and internal cabin skins with system for custom add-on textures.
Aircraft can be converted from Vehicle to Display model via menu. This disables unneeded scripts.
Crash effects; Propeller takes damage with Safe Mode turned off. Water ditching physics and system. Repair the aircraft with the Repair system.
Flight log system; Keep track of your flight progress. This feature logs flight time, distance, and sim borders crossed.
Rezzable Tie-down models and accessories for Display mode. Yo may also add your own.
Edit mode which allows you to turn all Link sensitive scripts off and on for Linking/Delinking parts of the plane. Some moving parts (front landing gear, window shades, etc) can use custom position. Just add the position vectors into the linked prim's description.
Free Desk Model for display, also compatible with CPAT and texture appliers.
Update system for free instant updates.
Controls
Pg Up/down ------------------------------- Throttle increase/decrease/WEP/wheel brakes
↑↓ up/down ------------------------------ Pitch Up/Down
←→ left/right ------------------------------ In air: Roll Left/Right On ground: Yaw Left/Right
SHIFT + ←→ left/right ------------------------------ In air and on ground: Yaw Left/Right
Left MB --------------------------------------------- Hold and tap ↑↓ up/down to Adjust Elevator Trim
Left MB/Mouselook + ←→ left/right ------------------------------ In air and on ground: Yaw Left/Right
Flight Recommendations
- Don't pull straight up if your Airspeed is too slow otherwise the plane will stall and possibly enter a spin.
- Pushing the nose down will make you gather speed quickly. Use flaps and reduce power to control your decent.
- Don't brake heavily or the aircraft will flip on it's nose
- Judge your climb and approach by your airspeed and throttle setting.
- To climb quickly, make a climbing turn while balancing your airspeed with angle of attack.
- Only use full flap when established on Final Approach.
- When landing, try to flare with the nose slightly high. This way you will make nice smooth landings.
- Use Auto Level for cruise, and use the elevator trim controls for further refinement.
- Don't try to fly underwater. Because, that makes no sense at all...
Mode B and Mode A
(RECOMMENDED) MODE B : Standard physics engine and is the easiest to fly. The plane will:
~ Auto-yaw into turns
~ Not loose lift when rolling or inverted
~ Has a limited diving speed
~ Stable during a stall
MODE A: Advanced physics engine and is more complicated to fly. The plane will:
~ Loose lift when rolling or inverted
~ Has an unrestricted diving speed
~ Deep stalling will cause controlled spinning and unstable flight conditions
Auto level and Trim system
Auto level is a function that will automatically level the aircraft's wings. This can be activated via the HUD or by typing "u". If the plane enters a stall or is on the ground, this feature will deactivate.
Additionally, you can adjust the Elevator trim by holding the Left Mouse button and tapping or holding Up or down. There is a maximum of 10° of up or down pitch.
Pilot and Copilot operations
The Tomahawk is a training aircraft which allows controls to be shared between Pilot and Copilot. By using "ct" command, you can swap controls between the Pilot and Copilot. If you were to loose your pilot at any stage during the flight, the Copilot will gain control automatically. This works the same way for the Pilot in the Copilot were in control and suddenly disappeared.


Cockpit Operations
The Tomahawk has a touch interactive cockpit. You will need to hide the yokes ("y") to enable this mode. While in Mouselook, you and your Co-pilot will be able click certain buttons while operating the aircraft.
(Names highlighted in
Cyan
are touch active)
1. ALTIMETER:
Height at which you're flying at in feet.
2. INDICATED AIRSPEED:
Speed of the Aircraft in 1:6 scale knots
3. VERTICAL SPEED INDICATOR (VSI):
How fast you're climbing or descending in feet per minute.
4. ARTIFICIAL HORIZON:
Orientation of the aircraft relative to the horizon.
5. FUEL GAUGE:
Current amount of fuel in Left and Right tanks.
6. R.P.M (REVOLUTIONS PER MINUTE):
How many revolutions the engine's crank shaft is producing per minute. Effected by throttle setting.
7 MAGNETIC COMPASS:
Magnetic heading in reference to the Earth's geomagnetic field.
8 GYRO COMPASS:
Non-magnetic heading and is subjected to gyroscopic procession. For Second Life, it's referenced to the Magnetic compass.
9. TURN/SLIP INDICATOR:
The needle indicates the rate of turn relative to 2 mins in 360° and the ball shows the slip/skid of the aircraft.
10. CLOCK:
Shows current time in PDT(GMT+7)
11.a ALTERNATOR OUTPUT:
Displays the AMP output from the engine's alternator.
11.b FUEL PRESSURE:
Displays the current fuel pressure in the fuel lines.
11.c OIL TEMPERATURE:
Temperature of the Oil sump.
11.d OIL PRESSURE
Pressure in the Oil lines to the engine. The hotter the oil, the less sticky it is, the higher the pressure accumulates.
12. VOR/HDG TRACK:
Displays the track from your current heading in relation to the course of the selected VOR beacon. (Not Functional)
13. ADF/HDG:
Displays the track from your current heading in relation to the direction of the selected ADF/DME beacon. (Not Functional)
Displays Radio frequencies and Transponder ID. Click this to access the WX system from within the cockpit.
Switch for the Battery and Alternator. Required for lights and engine operation.
Turns the starter On/Off. Will not work if the Master Switch is off.
Turns the Fuel Pump On/Off. Draws fuel from the tanks and into the engine. Required for engine start up.
Turns the Landing Light On/Off.
19.
ANTI-COLLISION LIGHTS
:
Turns the Nav and Strobe Lights On/Off
20. PITOT HEAT:
Turns the Pitot tube heater On/Off. (Not Functional)
Selects between Left and Right fuel tanks.
Set's the Parking Brake On/Off.
Set's the Flaps Up or Down.
Stalling and Spins
Stalling occurs when the aircraft is flying too slow to sustain lift and starts to fall. If one wing has more lift than the other in a stall, the aircraft will enter a spin.
Stall characteristics of a PA-38 Tomahawk:
~ High Angle of attack to completely vertical will lead to the aircraft flying backwards into the ground. Applying rudder will start the plane tumbling and then developing into a spin.
~ Wings Level will have the plane dip it's nose forward.
~ Inverted flight will have the plane dip it's nose towards gravity.
~ Applying pitch up in a stall may cause the plane to wing over and enter a spin or enter a deep unrecoverable stall.
NEVER PUT THIS PLANE INTO A NOSE HIGH DEEP STALL
YOU WILL NOT BE ABLE TO RECOVER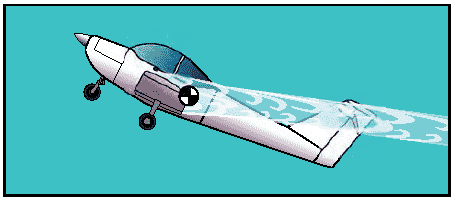 Wing turbulence over the Elevators in a deep stall causes a loss of pitch control.
(Image supplied by Google Images.)
Recovering from a Deep Stall in which the aircraft is flying backwards:
(This physics characteristic is mostly known to occur on T-tailed aircraft and has killed many pilots who have attempted to recover from it)
1) Flaps up, if down.
2) Apply Rudder and Pitch towards the ground
3) Pull power off until the aircraft drops it's wing
4) Proceed with Spin or Stall recovery
Recovering from a Spin:
1) Pitch towards the ground or gravity
2) Apply opposite Rudder and Roll into direction of spin
3) Apply Power
Every aircraft has a unique stall characteristic.
Pilots should become aware of them before attempting to fly the aircraft.
Display Mode and Vehicle Mode
A new feature to ZSK aircraft is Display Mode. You can convert your Aircraft into a Display model instantly through the Aircraft's menu. This will turn off all of the unnecessary flight scripts to keep the model resource friendly. In this mode, you can use the Menu to access the Rezzable accessories for the plane, such as Chocks, Tie Downs, and Shadow models. You can convert the Display back into a Vehicle just the same way through the menu. The flight scripts will be reactivated and the accessories will be deleted automatically. This makes it easy to park, leave, come back, start up, and fly away!
Wx System
The Wx system is a Weather Emulation System designed exclusively for ZSK Aircraft. The system allows the aircraft to be effected by weather environments through 6 preset scenarios. SL Wind is also an option. You can access the system via the HUD's "Wx" button, by typing "wx" into chat, or clicking on the Radio stack in the cockpit. You can experience a range of different weather effects on the aircraft from, crosswinds, turbulence, and thermal activity.
You will have 6 preset options:
Clear Skies - Clear weather with little wind
Fine Day - Mild wind and slight turbulence
Windy - Moderate winds, some turbulence, and thermal activity
Cold Fronts - Moderate winds, Mild turbulence, and thermal activity
Building Storms - High winds, Moderate turbulence, and Moderate thermal activity
Thunderstorms - High winds, Heavy turbulence, and unpredictable thermal activity with possible down drafts.
Parking Brakes and Wheel Brakes
The PA-38 is equipped with Parking Brakes and Wheel Brakes.
Activate the Parking Brakes by typing "br" or click the Parking brake switch on the HUD.
Activate the Wheel Brakes by holding down Pg down after progressing to 0% throttle.
Use of Flaps
Flaps ("f") are used on sometimes on Take-Off and mostly Landing. These change the airfoil of the plane which add drag and lift to the aircraft.
There are 3 settings; Up ("fu"), Approach ("fa"), and Down ("fd").
Approach Flap is used for your base leg of the circuit or on a long approach, and Full Flap should be applied on Final approach.
Fuel System
The PA-38 has been fitted with a Fuel system that gradually reduces fuel depending on the Throttle %.
Activate the Fuel system by typing "fuel" or click the Fuel switch on the HUD.
Both tanks carry a total capacity of 30 US Gallons, which is 15 Gallons in each.
You can toggle between Left and Right Tanks to typing "t" or clicking the fuel selector in the cockpit.
If one tank runs out of fuel, the fuel selector will automatically switch to the fuller tank.
When your plane runs out of fuel, the plane's engine cuts out and cannot be restarted until the aircraft's refueled.
Type "refuel" to fully refuel your plane
You can also set an amount of fuel. e.g "refuel50" will refuel 50 Gals.
You cannot set an amount of fuel higher than the max amount of 30 Gallons.
You cannot refuel if you are still airborne or the ignition is still on.


Safe Mode and Crash physics
Safe Mode enables/disables collision with objects and Second Life Water.
Striking the propeller on an object will cause it to brake and cease the engine. Landing on water will cause the aircraft to crash and float. (I hope you remembered the life vest under your seat)
You can repair the aircraft with the "repair" command. Please be wise with this function.


Customize your Aircraft
- USING CPAT (Custom Paint Assistant Tool)
DISCLAIMER: This is a FREE tool for all to use. CPAT is not be sold or distributed for any amount of L$ for this would be considered Fraud under Second Life's Terms of service.
The CPAT system allows the PA-38 to be customized without the need of a paint pot.
Simply rez out a copy of the CPAT and apply a texture to the corresponding panels. (Body, Wings, Propeller. Top row for textures, Bottom for Specular).
Once a texture has been applied to the panel, click it and the texture will be applied to that part of the aircraft.
This will also work for local/temp textures for those who use Firestorm or Singularity viewers (work in progress textures should automatically update once applied to the aircraft within the same log in session).
Please note: The CPAT is full perms, however if the permission change on the object, the system will still work. CPAT will not record your textures into the Paint Memory slots.
- INTERNAL READY TO USE PAINTS
By clicking Appearance>Liveries or Interiors menu button you will have full access to pre-made paints for your aircraft.
There are a total of 9 external skins and 3 interior skins.
- ADDING CUSTOM PAINTS, SPECULAR MAPS AND SHINE TO YOUR AIRCRAFT, AND USING ADVANCED MATERIALS
Note: You will need Atmospheric Shaders and Advanced Lighting enabled to see Specular and Normals maps on this aircraft.
Preferences > Graphics > Advanced Lighting Model
The Specularity of the aircraft's materials can be altered via the Menu. You can find this at Appearance > Adv. Material.
You can adjust the Gloss and Environment effects of the texture's shininess.
Gloss effects the intensity of the light hitting a shiny surface.
Environment effects the reflection and refraction of light hitting a shiny surface.
Use Appearance > Dft. Material to return the values back to stock.
Specular maps can also be added to the plane via the CPAT system or a Merchant paint script provided in the package.
DISPLAY MODE AND ADDING CHOCKS / TIE-DOWN MODELS
A new feature to ZSK products, is the ability to rez out Chocks and Tie Down models when your aircraft is in Display Mode.
You can access Display Mode by clicking the menu option.
Simply click Rez Chocks or Rez Tie-Down to display them with your aircraft. You can create your own by naming each object with the word "chock" or "tie" in it and adding it to the Aircraft's inventory.. The aircraft will rez out the models you've named accordingly. (Do not use "chock" and "tie" in the same prim name. This will cause errors).
EDIT MODE
Edit mode allows the aircraft to be linked/delinked for modification by turning off link set sensitive script.
IMPORTANT:
YOU MUST HAVE EDIT MODE ON BEFORE ADDING/SUBTRACTING LINKED OBJECTS FROM THE PLANE. THIS CAN CAUSE THE MODEL TO BREAK.
PLEASE TAKE A COPY OF YOUR AIRCRAFT BEFORE MODIFYING THE LINK SET. ZSK IS NOT RESPONSIBLE FOR ANY MODIFICATIONS MADE BY THE AIRCRAFT'S OWNER.
LINKED PRIMS ARE SENSITIVE TO THEIR OBJECT NAME. RENAMING LINKED PRIMS MAY STOP THAT LINK FROM REACTING TO SCRIPTED FUNCTIONS.
Once you've finished your modification, click on the plane to bring up the menu and select Edit Mode again to turn it off.

SCALING YOUR MODEL

As mentioned above, you Tomahawk model you receive is 10% larger than the original dimensions. If you wish to scale your model to whichever size you like, please ensure that Edit Mode is turned ON before attempting to. Most of the linked prims that are animated will scale their programmed animations to the scale of the Root prim. It is important that you DON'T make the dimensions of the root prim uneven, e.g. <0.3,0.2,0.3>. This will break the scaling math and cause awkward animated prims.


You may also program the animation positions of the Front landing gear, yokes, and sun visors. In the linked object's description you will see a list of vectors. List your vectors (<x,y,z>) like this: pos1,pos2,pos3.
Front Landing Gear: Sagging, On ground, compressed from braking
Both left and right yokes: Back, Neutral, Forward
Both Run shades: Stowed, flipped out


Commands
MAJOR FUNCTIONS

start/stop
Starts up and Stops the aircraft's engine.

br
Sets Parking brakes, turns plane Physics off. Do not use while Taxiing or traveling above walking speed, the plane will tip forward.

c1,c2,c3,c4,c5,c6
Toggles the Camera view from 6 different camera positions. Positions are: Static, Dynamic, Cinematic, Top down, Left gear, and Right gear views.

f
Toggles the Flaps UP or DOWN. These will cause additional drag but will allow you to fly at a lower speed for landing.

fu
Toggles the Flaps in Up mode.

fa
Toggles the Flaps into Approach mode.

fd
Toggles the Flaps into Down mode.

safe
Toggles Safe Mode on and off.

guest
Toggles Guest Mode. Anyone can sit in the plane and fly it.

hud
Gives the current pilot a copy of the PA-38 Tomahawk HUD

menu
Menu for Seat adjustment and additional Paint options.

text
Toggles hover text at the rear of the plane. This displays VICE, Fuel, throttle setting information.

u
Toggles the Auto-Leveling system. Keeps the plane flying straight without using controls.

m
Toggles between Mode B and Mode A flight physics.

wx
Activates the Wx weather emulation system.

lock
Stops avatars from seating in the Co-Pilot seat

ct
Swaps between Pilot and Co-Pilot controls.

boot
Boots out the avatar in the Co-Pilot's seat

y
Show/Hide the Yoke. When hidden, you cannot use Mouse Look controls but makes touching the cockpit buttons easier

bat
Turns the Master switch On/Off.

seat
Brings up a menu for sit height adjustment.

start log
Starts logging your flight details

end log
Reports your complete flight details

repair
Repairs your aircraft if it has become damaged. Make sure the plane is on the ground and is turned off.

FUEL SYSTEM

fp
Turns the Fuel Pump On/Off

fuel
Toggles Fuel System which makes the plane consume different quantities of fuel depending on how much power (Throttle %) you are using. Running out of fuel will shut down the engine. The plane can normally carry 30 Gallons.

t
Swaps between Left and Right fuel tanks.

refuelxx
Refuels your aircraft. Plane MUST be turned OFF and you won't be able to start the engine while refueling.
(xx) is a custom number of Gals you can add. e.g "refuel50" for 50 Gals.

LIGHTS

wl
Toggles Nav lights which are the Red, Green, and White strobing lights on the ends of the wings and tail. These will not work unless the Master switch is turned on.

ll
Toggles Landing lights which also extends and retracts with the landing gear.

cl
Toggles instrument back lights in your cockpit.
CHECK LIST

Max Speed ----------------------- 140kts

Cuise Speed --------------------- 110kts

Stall Speed

No flaps ------------------- 53kts

Full -------------------------- 43kts

~~PRE-START~

Parking Brakes ------------------------------------ ON

Camera -------------------------------------------- AS REQUIRED

Text ------------------------------------------------ AS REQUIRED

Fuel system --------------------------------------- AS REQUIRED

Master Switch ------------------------------------- ON

~~ START ENGINE~~

Fuel Pump ----------------------------------------- ON

Shout "CLEAR PROPELLER!"

Ignition -------------------------------------------- ON

Check Fuel and oil pressure

~~ AFTER START~~

Nav Lights ----------------------------------------- ON

~~TAXI~~

Parking Brakes ------------------------------------- OFF

Throttle --------------------------------------------- 5 - 20% OR AS NEEDED

Taxi Speed ------------------------------------------ 5 - 15 MPH

~~TAKE-OFF~~

Set Trim -------------------------------------------- 2-5° Pitch up or AS REQUIRED

Landing Light -------------------------------------- ON

Flaps ------------------------------------------------ UP OR APPROACH FOR SHORT STRIPS

Throttle --------------------------------------------- 100% FULL POWER

Take-off Speed

V1 ----------------------------------- 40kts

Vr ----------------------------------- 56kts

V2 ----------------------------------- 67kts

~~AFTER TAKE-OFF/CLIMB~~

Flaps ------------------------------------------------ UP

Throttle --------------------------------------------- SET FOR CLIMB

Check Trim

~~CRUISE ~~

Throttle --------------------------------------------- SET FOR CRUISE

Auto Level ----------------------------------------- AS REQUIRED

~~LANDING ~~

Throttle --------------------------------------------- AS REQUIRED

Landing lights -------------------------------------- ON

Flaps ------------------------------------------------ DOWN

Landing Lights ------------------------------------- ON UNTIL CLEAR OF RUNWAY

~~SHUT DOWN~~

Parking Brakes ------------------------------------ ON

Fuel system --------------------------------------- OFF

Ignition --------------------------------------------- OFF

Lights ----------------------------------------------- OFF

Master Switch ------------------------------------- OFF
Production images
Late November 2014. Tomahawk's body had been roughed out. Rudder, tail plane and wings had been added but are yet to be refined.
Late December 2014. Preparing the aircraft for uploading. Most of the aircraft's externals are modeled. Interior is still being developed.
One of the liveries the will come with the aircraft on release.
Late December 2014. Panel texture is complete. The floor texture is the Ambient Occlusion bake for the texture to come. Throttle quadrant isn't textured at the time.
January - February 2015: The aircraft has been fully modeled and UV mapped. LOD models can be seen on the bottom right. The blue glow on the most top model is a Projection cage, which is used to create the normal maps for the wings and tail.